By Will Repko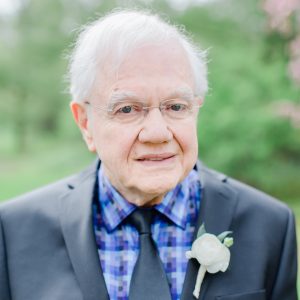 Dr. James Roper, MSU Debate's first and longest-serving Director of Debate, passed away on October 16, 2020. Dr. Roper was the director of MSU Debate from 1984 until 2000. MSU Debate's Head Coach, Will Repko, and Dr. Roper's son, Dan Roper, reflect on his service to MSU and MSU Debate.
Will Repko, MSU Debate Head Coach –
On Friday, October 16th, Professor James Earl Roper passed away.
It would be difficult to overstate how central of a figure Jim has been in the growth of intercollegiate debate on this campus.
In the 1980's, there was no Debate Program at Michigan State University. Noticing this void, a few undergraduates approached their Philosophy instructor after class. They asked if Professor Roper might be interested starting a club or attending competitions.
In approaching Jim, the students had identified a seemingly atypical candidate. He had no formal academic background in specialized world of debating. In reality, few Professors would seriously ponder a mid-career plot twist of this sort.
And yet – in the most important respects – Professor Roper proved to be the ideal candidate. Jim was instinctively generous. Once invested in a cause, he was persistent and devoted. Starting a Team from scratch required a committed leader. Professor Roper more than fit the bill.
As the Director of the Debate Team, Jim guided MSU to the Elite Eight of the 1988 Cross-Examination Debate Association's (CEDA) National Championship. Jim was always especially proud of that breakout performance – not because of the trajectory it created for the Program, but because he had a such a positive dynamic with the students from that "early era" of the Team.
From there, Jim directed the MSU Team to series of deep runs at the CEDA National Championship. The Team placed 2nd in 1994, 1997, and 2000. Professor Roper was the Director of the 1995 CEDA National Championship Team, as well as the 1996 National Championship for Seasonal Sweepstakes Points.
Ever open to new ideas, Jim's teams began to compete in other Debate organizations – reaching the Final Round of the 2000 National Debate Tournament and the semifinals of the same event in 1998.
My sense is that Jim would not seek to be remembered solely through the lens of his competitive accomplishments. To be clear, Jim was most certainly rooting for his debaters to win. At tournaments, he would buy-up all the morning newspapers just to make sure his students had access to the most recent research. But those trips to Barnes & Nobles were never about any personal quest for glory. They were an extension of his selflessness. For Jim, the game of debate was about educating and giving back to the next generation.
The most enduring legacies Professor Roper left the Debate community are – quite appropriately – the result of two of his most unselfish acts.
In 1992, I – out of nowhere – encouraged Jim to create the Spartan Debate Institute (SDI). He did so without compensation. Summer 2021 will mark the 30th iteration of the camp he founded. It has reached high school students from all 50 States, as well as numerous other countries.
After the 2000 academic year, Jim decided to make a hard push to transition the "Debate Club" into a formal Team. No longer would the coaching staff serve as volunteers. Our stays in motels might even be a thing of the past.
Unbeknownst to us, Jim had no intention of accepting the very positions he worked so hard to create. In a final act of act of generosity, he handed over the reins of the Program to me and my colleague Jason Trice.
If you have ever been coached or judged someone that went the SDI – or if your journey in the activity ever carried you to East Lansing, it is because of Jim Roper.
He was an instrumental figure in my life. He was my friend, teacher and colleague. More than anything – he looked out for my well-being.
He did so for me – and countless others – not because he was obliged to do so. Rather, he did so because he knew no other way. He was innately supportive. He was genuinely caring.
Thank you. Thank you for everything, Jim.
Dan Roper, Dr. James Roper's son –
On 10/16/20, my father James Roper passed away from cancer with family at his side. Dad was an incredible man filled with wisdom, love, compassion, generosity, and of course the gift of gab. He was the type of person that would have given the shirt off his back to help a friend or for his family. He was an amazing father to me and my sister Michelle Kitze. Teaching was his passion. As a professor of philosophy at MSU for 54 years he was the longest serving professor at the University and retired only two years ago at the age of 79. Rest in peace dad, after a well lived life.
---
The family is encouraging donations to the MSU Debate Team Endowment.
Gifts can be made online at givingto.msu.edu
Gifts can also be made by mail, or by calling MSU at (517) 884-1000.
To make a donation via mail, please make your check payable to Michigan State University and include "MSU Debate Team Endowment" in the memo line of your check.
Please mail checks to:
University Development
University Advancement
Spartan Way
535 Chestnut Road, Room 300
East Lansing, MI 48824