By Wajeeha Kamal
Glen Scully, a computer science freshman, was named Junior Varsity Debater of the Year by the American Debate Association at the National Championship Tournament on March 5.
Scully, a native of Bakersfield, California, attended Stockdale High School, and got started in debate after his sister convinced him to attend an info session for his high school's team.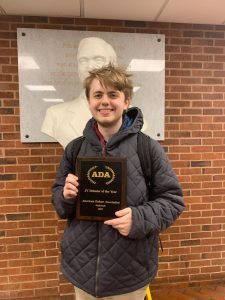 "After watching a mock debate, I was like, wow, this is really interesting," he said.
For much of his high school debate career, Scully did policy debate but he switched to doing the individualized Lincoln-Douglas debate format during his final months in high school.
Scully said he is interested in kritiks or K-debates because he really got into philosophical arguments that discuss why people do the things they do, rather than just political actions.
"That kind of translates to my role on the MSU Debate Team, which becomes, at least some of the time, to…make those arguments and to write answers or to make those arguments themselves for the rest of the team," he said. "I have this unique position on the team where I'm one of the few debaters that have really like done things on a level of philosophy."
Scully said the entire team works well together to help one another to be better debaters and people, specifically his partner, Miaomiao Zi.
"It's a two person activity…I think that at first, we were still kind of learning the gaps," Scully said. "But after that, we kind of really hit our groove. We were semifinalists in several tournaments. And then in the ADA Championship Tournament, we were quarterfinalists."
He said the biggest challenge so far has been acclimating to the college debate experience after debating in high school, but said the team atmosphere has helped him overcome the challenge.
"Everyone on the team lifts each other up. They don't push each other down," Scully said. "If you ever have a problem or an issue with an argument, they'll be the first ones that you can contact and be like, 'Hey, I don't understand this,' and they'll immediately answer it. And it's really a huge help. The coaches, especially, are always to be there for you and tell you, 'Okay, this is good. This is bad. Here's what we can do better. Here's how we fix it,' which is a huge help."
Even though the season is over, Scully doesn't plan on stopping. This upcoming summer, he said he plans to work a lot.
"We can keep on putting in that work, keep on trying to help the team out," Scully said. "Next year, there is a chance to be in varsity, to figure out and have a new journey, new experience of what's going to happen next."