By Carly Watson
EAST LANSING, Mich. — Michigan State University Debate had their best results at the American Debate Association (ADA) National Tournament in team history last weekend.
Nate Glancy, an economics senior, and David Koster, a political science sophomore, were named one of the top eight teams at the tournament after defeating a hybrid team from Harvard University and Amherst College and teams from Emory University, the University of Minnesota, Liberty University, the University of Kansas, and the University of Wyoming.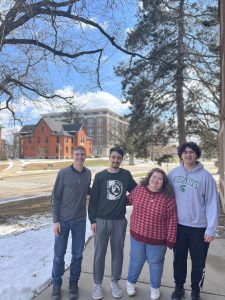 Piper Meloche, a social relations and policy senior in James Madison College, and Tony Miklovis, a James Madison College freshman, bested teams from the University of Michigan, George Mason University, the University of Minnesota, Missouri State University, and a hybrid team from University of Pennsylvania and Northeastern University to reach the octafinals.
Entering elimination debates, Glancy and Koster were seeded eighth overall and Meloche and Miklovis were seeded ninth. Elimination debates are a single-elimination bracket and when two teams from the same school are set to debate each other in the bracket, the higher seed advances. Glancy and Koster advanced over Meloche and Miklovis to tie MSU Debate's previous best result at the ADA Nationals Tournament in 2017.
"This is an amazing result for MSU Debate," said Will Repko, MSU Debate Head Coach. "Having two teams in elimination debates at a national tournament is a testament to the depth of the team right now."
In addition to selecting a winner in each debate, judges assign each participant a speaker point score. Based on aggregate points, awards are given to the top speakers at the tournament.
Meloche and Miklovis set a team record for highest speaker point awards received at the ADA Nationals Tournament. Meloche clinched the fourth place award and Miklovis was ninth out of over one hundred participants at the tournament.
In addition to being a record at the ADA Nationals Tournament for MSU Debate, Meloche's fourth speaker award is the highest speaker award for an MSU debater at a national championship in over a decade.
"Piper is an incredibly talented debater who has an phenomenal mastery of her arguments so it was great to have that recognized by the judges," said Repko.
Mitchell Scott, an economics sophomore, Ephraim Bennett, a computer science freshman, Wajeeha Kamal, a political theory and constitutional democracy sophomore, and Maddie Van Zant, a psychology senior, also represented MSU at the tournament.
MSU debate next competes at the 76th Annual National Debate Tournament hosted by James Madison University the last week of March.
The MSU Debate Team is part of the Honors College.