By Carly Watson
Michigan State University Debate won the Wayne State George Ziegelmueller Invitational Tournament this past weekend after being undefeated in preliminary debate and besting a team from the University of Michigan in the final round.
Piper Meloche, a social relations and policy junior in the Honors College, and Duvall Adair, a political theory and constitutional democracy senior in the Honors College, defeated teams from the University of Michigan, Samford University, the University of Mary Washington, Georgetown University, and the United States Naval Academy on the road to winning the tournament.
Meloche and Duvall were undefeated in the preliminary debates and entered the elimination debates as the second seed in a highly competitive field with over 40 teams.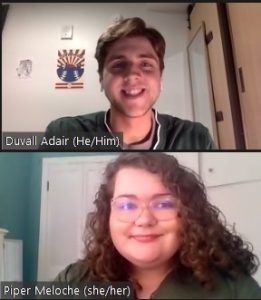 "Historically, Wayne State has been a competitive regional tournament," explained Will Repko, MSU Debate's Head Coach, "but this year, because the competition was held online, schools from around the nation were able to participate. I am especially proud of the students because the field was even tougher."
This is the third consecutive year that MSU Debate has been in the final round of the Wayne State Tournament but the first year of those appearances that have resulted in a tournament championship.
Repko said, "This is an incredible achievement for Piper, Duvall, and the entire MSU Debate Team. It's truly a team effort when you win a tournament and we're all immensely excited for them."
Meloche is originally from Beverly Hills, Michigan where she debated for Wylie E. Groves High School and Adair is from Atlanta, Georgia where he debated for Marist School.
"Both Piper and Duvall are amazing assets for the MSU Debate Team" said Bruce Najor, one of MSU Debate's Assistant Coaches, "they work hard, they have great attitudes, and it's awesome to see that paying off."
Also competing at the Wayne State Tournament were: computer science freshman Mitchell Scott, Arabic and Middle Eastern studies junior Alison Weber, psychology sophomore Maddie Van Zant, and political science freshman David Koster.
Over the last 25 years, MSU Debate has reached the Final Four of the season-ending National Debate Tournament on 10 occasions – winning the National Championship in 2004 (def. Cal-Berkeley), 2006 (def. Wake Forest University), and 2010 (def. Northwestern University).
MSU Debate will compete next at the Gonzaga University Tournament the weekend of October 30.
The MSU Debate team is part of the Honors College.