By Carly Watson
Michigan State University Debate had teams in the quarterfinals and octafinals of the USC Fullerton-Georgetown Tournament.
Nate Glancy, an economics senior, and David Koster, a political science sophomore in the Honors College, reached the top eight of the tournament. Piper Meloche, a social relations and policy senior in the Honors College, and Tony Miklovis, a James Madison College freshman made it to the top sixteen of the tournament.
Glancy and Koster defeated teams from the University of Southern California, the University of Minnesota, the University of Kentucky and a hybrid team from Harvard University and Amherst College in the preliminary debates. Glancy and Koster advanced with a bye through the double-octafinals and beat a team from Wake Forest University in the octafinals before being bested by a team from the University of Kentucky in the quarterfinals.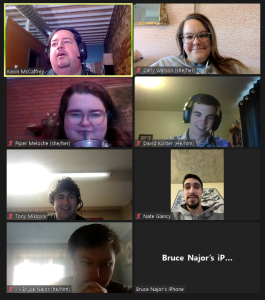 Meloche and Miklovis bested teams from Wayne State University, the University of Minnesota and the University of Kentucky before bowing out to a team from Northwestern University in the octafinals.
"This is the best result for both of these teams so far this year," said Will Repko, the MSU Debate Team Head Coach. "Starting off the spring semester with a deep run in elimination debates creates great momentum for the semester."
The tournament was co-hosted online by CSU Fullerton and Georgetown but, because it was before the start of the semester, some MSU Debaters competed at the tournament from East Lansing and others were remote.
"It was an unusual set-up but the students did a great job of preparing and communicating throughout the tournament," Repko said.
MSU Debaters spent much of their winter break preparing for the CSU Fullerton-Georgetown Tournament even while they weren't in East Lansing.
Kevin McCaffrey, MSU Debate Assistant Coach, said, "We met a lot over the break to continue to prepare because we wanted to have a strong showing at the first tournament of the spring semester. It's great to see these students' hard work pay off."
MSU Debate will compete next the University of Rutgers-Newark round robin later this month.
The MSU Debate team is part of the Honors College.