By Carly Watson
EAST LANSING, Mich. — Michigan State University Debate reached the octafinals (round of 16) at a tournament hosted by the University of Texas at Austin last weekend.
At the Texas Open, Piper Meloche, a social relations and policy major in the Honors College, and Tony Miklovis, a James Madison College freshman in the Honors College, won four straight preliminary debates to qualify for elimination debates.
Meloche and Miklovis bested teams from George Mason University, Binghamton University, the University of Wyoming, and a hybrid partnership representing Northeastern University and the University of Pennsylvania in the opening four debates.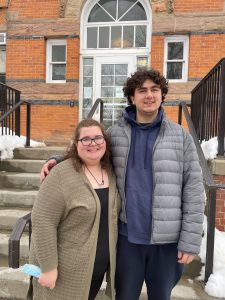 "Tony and Piper came out of the gate strong," said Kevin McCaffrey, MSU Debate Assistant Coach. "Only a handful of teams were undefeated after the first four debates so we were well-positioned early."
In elimination debates, Meloche and Miklovis defeated a team from Wake Forest University to reach the octafinals.
Will Repko, MSU Debate Head Coach, said, "Our debate against Wake [Forest University] was challenging – they're a team that's regularly been in elimination debates all season."
With over one hundred teams competing, the Texas Open is the largest tournament of the spring semester.
This is the fifth elimination round appearance for Meloche and Miklovis this season. They've previously reached the octafinals of the FullerTown Tournament, double octafinals of the Wake Forest University Tournament, double octafinals of the University of Kentucky Tournament, and the triple octafinals of the Northwestern Season Opener.
"Looking at the season as a whole you can really see the momentum that Piper and Tony have," said Repko. "They've consistently improved their results with better wins and deeper appearances in elimination debates."
Wajeeha Kamal, a Political Theory and Constitutional Democracy sophomore in the Honors College, and Maddie Van Zant, a psychology senior in the Honors College, also represented MSU Debate in the junior varsity division of the Texas Open.
Kamal and Van Zant had two wins over teams from New York University in preliminary debates.
The Texas Open is the last tournament of the regular season. MSU Debate will compete next at the National Debate Tournament qualifying tournament (2/19-2/20/2022).
The MSU Debate team is part of the Honors College.