By Carly Watson
Two students from the Michigan State University Debate Team have been selected to represent MSU at the Brick City Round Robin – an invitation-only tournament for twelve of the top teams in the country.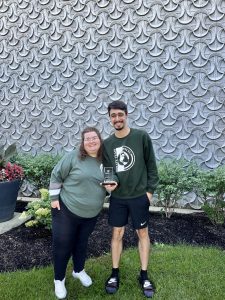 Piper Meloche, a social relations and policy senior in the Honors College, and Nate Glancy, an economics senior, were selected based on their success in the first semester.
Meloche and Glancy repeatedly reached elimination rounds at tournaments they attended. They were in the Sweet 16 at tournaments hosted by Northwestern University and the University of Kentucky and were double octofinalists at the Wake Forest University Tournament.
MSU will be joined at the Brick City Round Robin by teams from Northwestern University, the University of Michigan, Dartmouth College, Emory University, Wake Forest University, Amherst College, Kansas University, the University of Iowa, the University of Pittsburgh, and California State University Long Beach.
"It's an enormous honor to be recognized with an invitation to the [Brick City] Round Robin," said Will Repko, the MSU Debate Team Head Coach. "This is a testament to how hard Piper and Nate have worked and how well they've been doing."
This is MSU Debate's second invitation to the Brick City Round Robin and Glancy is the tournament's defending champion after winning the tournament last year with his partner at the time, David Koster.
Debaters and coaches will spend the next several weeks preparing.
"A round robin is unique because we know who we'll be debating in advance. That gives us the opportunity to plan for specific contingencies and practice for different situations," explains Repko.
While Meloche and Glancy are the students from MSU who were selected to attend, the entire team will help prepare materials for them to compete.
"There will only be two MSU debaters in the tournament but the invitation is a reflection of the hard work of the whole team," said Kevin McCaffrey, MSU Debate Assistant Coach.
The Brick City Round Robin will be hosted by Rutgers University-Newark January 21-22, 2023.
The MSU Debate team is part of the Honors College.