By Carly Watson
Michigan State University Debate won the George Ziegelmueller Invitational Tournament hosted by Wayne State University this past weekend.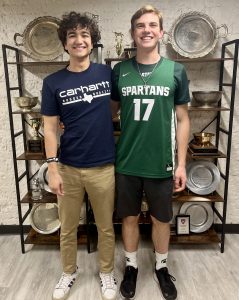 Ephraim Bennett, computer science sophomore, and David Koster, political science-prelaw and economics junior in the Honors College, bested teams from Missouri State University, Samford University, and Wayne State University in preliminary debates.
Bennett and Koster entered the elimination debates as the fourth overall seed. In elimination debates, they defeated teams from Missouri State University and Wichita State University before coming out on top against Wayne State University in the championship debate.
Bennett and Koster also received speaker awards at the tournament. Speaker points are given to each individual debater in preliminary debates. Bennett was the seventh overall speaker and Koster was the sixth overall speaker.
"This is an exciting result," said Will Repko, MSU Debate Head Coach. "It was a challenging field of competitors but Ephraim and David were debating so well – they deserve this win."
Bennett is originally from Lincolnwood, Illinois where he debated for Niles West High School and Koster is from Wichita, Kansas where he debated for Trinity Academy.
MSU Debate has been in the championship round at the Wayne State Tournament four of the last five years and this is the second time in three years that MSU Debate has won. Piper Meloche, now a social relations and policy senior, and Duvall Adair, now a political theory and constitutional democracy alum, defeated the University of Michigan in the championship debate in 2020 to win the tournament.
"We've had really strong showings at Wayne State over the last few years. Our debaters have been working hard to prepare and it's been paying off," said Repko.
Aadit Agrahara and Tyler Buck, both freshman in James Madison College, also debated at the Wayne State Tournament in the Junior Varsity (JV) division this year. Agrahara and Buck reached the Elite Eight in JV at the tournament after racking up wins over the University of Michigan, the Naval Academy, and Purdue University.
"Not only were Tyler and Aadit doing really well in JV but a lot of debaters stayed in town over their fall breaks and were invested in the teams' results at the tournament. Winning a tournament really is a whole-team effort," said Kevin McCaffrey, MSU Debate Assistant Coach.
MSU Debate will compete next at the Gonzaga University Tournament the weekend of October 29.
The MSU Debate team is part of the Honors College.