Michigan State University Debate had two competing in elimination debates at the Northwestern Season Opener. Over 140 teams participated in the tournament.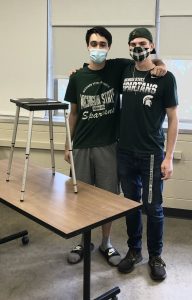 In the elimination debates, MSU was represented by Nate Glancy, an economics senior, David Koster, a political science sophomore, Piper Meloche, a social relations and policy major, and Tony Miklovis, a James Madison College freshman. Meloche and Koster are members of the Honors College.
Glancy and Koster defeated teams from the University of Texas at Dallas, Liberty University, and Iowa University in the preliminary debates before being defeated by Baylor University in elimination debates. Glancy and Koster were one of only a few teams that were undefeated after the first four preliminary debates.
Meloche and Miklovis bested teams from Wake Forest University, Samford University, and the University of Southern California before bowing out to a team from the University of Texas at Austin.
"We're thrilled with the results from the first tournament of the year," said Will Repko, the MSU Debate Team Head Coach. "Having two teams in elimination debates speaks to the depth of our squad."
The Northwestern Tournament was held virtually but this semester, for the first time, students are able to compete from classroom space at MSU.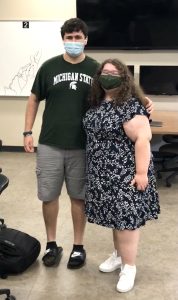 "It was challenging having everyone be completely remote last year so it's exciting to be able to compete from the same physical space – it feels a lot more like a team," Repko said.
Also competing at the Northwestern Season Opener were Mitchell Scott, computer science sophomore, and Ephraim Bennett, computer science freshman. Scott and Bennett had wins over the University of Pittsburgh, New York University, and the University of Texas at Dallas.
Kevin McCaffrey, MSU Debate Assistant Coach, said, "There are always a lot of unknowns at the beginning of the season but these students have been working incredibly hard. It will be an exciting year for MSU Debate!"
MSU Debate will compete next at the JW Patterson Debates hosted by the University of Kentucky the weekend of October 2.
The MSU Debate team is part of the Honors College.