EAST LANSING, Mich. — Michigan State University Debate had two teams reach elimination debates at the 76th National Debate Tournament last weekend.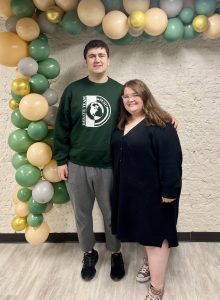 Piper Meloche, a social relations and policy senior in James Madison College, and Tony Miklovis, a James Madison College freshman, bested teams from the University of Texas at Austin, University of Minnesota, Kansas State University, and Samford University to reach elimination debates.
Nate Glancy, an economics senior, and David Koster, a political science sophomore, had wins over Baylor University, the University of Texas at Dallas, Wayne State University, Johnson County Community College, and the University of Central Oklahoma to reach elimination debates.
This is the first time that MSU Debate has reached the elimination rounds at the National Debate Tournament since 2017.
"To be back in elimination debates with not one team, but two teams, is a testament to the amazing group of debates and coaches we have right now," said Will Repko, MSU Debate Head Coach.
Entering elimination debates, Glancy and Koster were the 15 seed overall and Meloche and Miklovis were seeded 29. In the double octafinals, Glancy and Koster were defeated by the University of Minnesota and Meloche and Miklovis were defeated by the University of Kansas.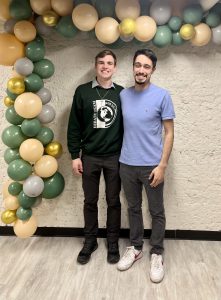 "This has been such an exciting year to join the team," said Kevin McCaffrey, MSU Debate Assistant Coach in his first year with the team. "This is an incredible group of students to work with and they have a lot to be proud of."
Only 78 teams nationally qualify to the National Debate Tournament each year out of hundreds of teams that participate in regional qualifying tournaments. Students spend months preparing to debate at the culminating tournament.
"Pretty much any day of the week at almost any time of the day you can find the students working in the debate office and that hard work paid off," said McCaffrey.
MSU has won the National Debate Tournament three times and qualified to participate for 26 consecutive years.
This is the last competition of the year for MSU Debate. Over the summer break, the team hosts the Spartan Debate Institute – a youth program – and begins preparation for the next season.
The MSU Debate Team is part of the Honors College.