By Carly Watson
EAST LANSING, Mich. — While many students left campus for fall break, Michigan State University Debate students spent the weekend competing at the George Ziegelmueller Invitational tournament hosted by Wayne State University.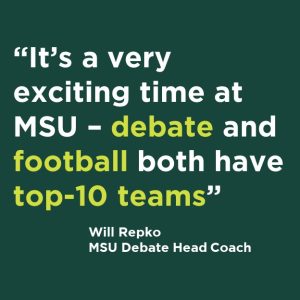 David Koster, a political science and economics sophomore in the Honors College, and Mitchell Scott, a computer science sophomore, made it to the quarterfinals round at the Wayne State Tournament.
"It's a very exciting time at MSU – debate and football both have top-10 teams," said Will Repko, MSU Debate Head Coach. "The Wayne State tournament was a great showing for MSU Debate."
Koster and Scott bested teams from the University of Minnesota, Harvard University, Wake Forest University, and the University of Wyoming in preliminary debates.
In the elimination debates, Koster and Scott beat the University of Texas at Dallas to reach the quarterfinals round. They were defeated in the Round of 8 by a team from Wake Forest University.
Koster, originally from Wichita, Kansas, was named fifth overall speaker at the tournament. Over 100 students from universities all over the country competed at the tournament.
Kevin McCaffrey, MSU Debate Assistant Coach, said that Koster's success is all due to hard work. Koster spent much of the summer break practicing and giving speeches for the coaches.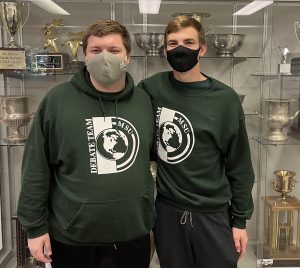 Scott is the recipient of the 2020 Distinguished Debater Award and is originally from Tulsa, Oklahoma where he debated for four years at Riverfield Country Day School (a high school in the Tulsa Urban Debate League).
"Mitchell is an incredibly talented young debater," McCaffrey said. "He's a huge part of the team's culture and you can usually find him in the Debate office preparing every day of the week."
The George Ziegelmueller Invitational was hosted online by Wayne State University but MSU Debate competed at the tournament virtually from space at MSU.
"Mitchell and David chose to spend their fall break competing at a debate tournament. That tells you everything you need to know about how committed these students are and how much they love to debate," said Repko.
MSU Debate will compete next at the Harvard Tournament October 30-November 1.
The MSU Debate team is part of the Honors College.