By Carly Watson
EAST LANSING, Mich. — Nate Glancy and David Koster, members of the Michigan State University Debate Team, won the Brick City Round Robin last weekend.
The tournament, hosted by Rutgers University-Newark, is an elite event where only twelve teams are invited to participate. Teams are selected in recognition of their season-long success.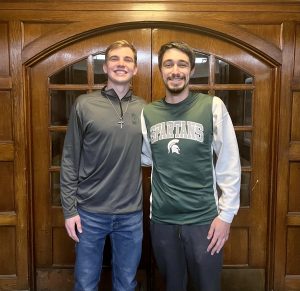 Glancy, an economics senior, and Koster, a political science sophomore in the Honors College, defeated teams from the University of Michigan, the University of Kansas, and Johnson County Community College in the preliminary debates.
"This tournament is unique because we know exactly who will be debating in advance," said Will Repko, the MSU Debate Team Head Coach. "The coaches and debaters on the team spent weeks preparing."
After winning three preliminary debates, Glancy and Koster entered the elimination debates as the second seed.
In the semifinals, Glancy and Koster defeated a team from the University of Minnesota on a 4-1 decision.
Glancy and Koster debated the top seeded team from the University of Kansas in the final round. This University of Kansas pair is ranked eighth nationally. MSU was declared the winner on a close 3-2 decision.
"Nate and David went on such an awesome run. They were well-prepared, debating great and it showed," said Kevin McCaffrey, the MSU Debate Team Assistant Coach.
Glancy and Koster actually lost their first two rounds of the tournament before winning five straight debates to win the tournament.
"All of the teams invited really are among the best in the country," said Repko. "Losing the first two debates was a tough start but we knew the tournament would have a lot of challenging competition so we just tried to stay focused."
The Brick City Round Robin is the pair's first tournament championship. They've previously reached the quarterfinals of the Georgetown-Fullerton Tournament, the octafinals of the Wake Forest Tournament, the double octafinals of the University of Kentucky Tournament, and triple octafinals of the Northwestern Tournament.
The MSU Debate Team is part of the Honors College.