Michigan State University Debate reached the octofinals at two tournaments in the past two weekends making it four straight Sweet 16 finishes for teams from MSU Debate.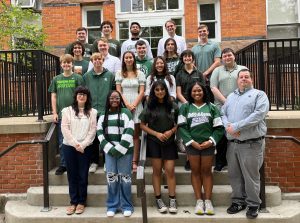 Joanna Gusis, a political theory and constitutional democracy sophomore in the Honors College, and Tony Miklovis, a social relations and policy and international relations junior in the Honors College, reached the octofinals round at the Harvard College Tournament.
Gusis and Miklovis had wins over Georgetown University, Emory University, George Mason University, Kansas University, the University of Texas at Dallas, and Wichita State University in preliminary debates to qualify for elimination debates.
The Harvard College Tournament has eight preliminary debates and only the top sixteen teams qualify for elimination debates.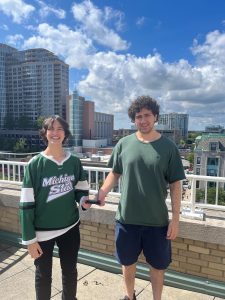 "Harvard is one of the toughest tournaments of the year," said Will Repko, MSU Debate Head Coach. "There are more preliminary debates and half as many teams qualify for elimination debates compared to other tournaments of this size."
This is the third top 16 finish for Gusis and Miklovis this year. They also reached the octofinals at tournaments hosted by Northwestern University and the University of Kentucky.
"Tony and Joanna have proven they are consistently performing at an incredibly high level. Not many teams can say that they were in the octofinals at three straight tournaments," said Repko.
MSU was also represented at the tournament by David Koster, a political science and economics senior in the Honors College, Stephen Lewis, a journalism freshman, Ephraim Bennett, a computer science junior, and Blaine Montford, a political science freshman in the Honors College.
The weekend before the Harvard College Tournament, MSU Debate participated in the George Ziegelmueller Invitational hosted by Wayne State University where Glen Scully, a computer science sophomore, and Hina Shehzad, a James Madison College freshman, also reached the octofinals.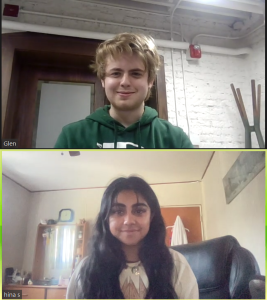 Scully and Shehzad bested teams from the University of Michigan, Northwestern University, Gonzaga University, and Wake Forest University to qualify for elimination debates.
MSU was also represented at the Wayne State University tournament by Miaomiao Zi, interdisciplinary humanities and English concentration in creative writing sophomore, and Tyler Buck, a Political Theory and Constitutional Democracy and African American and African Studies freshman.
"It's awesome that teams from MSU Debate have been in the Sweet 16 at four straight tournaments this year," said Kevin McCaffrey, MSU Debate Assistant Coach. "We have a hard-working group of students and their hard work is paying off."
MSU Debate will next debate at the Franklin R. Shirley Tournament hosted by Wake Forest University in November.
The MSU Debate Team is part of the Honors College.