Michigan State University Debate reached the octofinals at the Franklin R. Shirley Class hosted by Wake Forest University last weekend.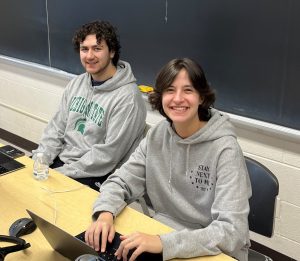 Joanna Gusis, a political theory and constitutional democracy sophomore in the Honors College, and Tony Miklovis, a social relations and policy and international relations junior in the Honors College, reached the Sweet 16 after defeating teams from Northwestern University, the University of Texas, the University of Minnesota, California State University – Fullerton, and Liberty University in preliminary debates.
In elimination debates, Gusis and Miklovis defeated a highly ranked team from Georgetown University in the double octofinals before losing a close debate in the octofinals to a team from Wake Forest University that ultimately reached the tournament finals.
Gusis and Miklovis have attended four tournaments in the fall semester and reached the octofinals at all of them. They previously reached the Sweet 16 at the Northwestern Season Opener, the University of Kentucky Tournament, and the Harvard College Tournament.
"Joanna and Tony have quite the streak going," said Will Repko, MSU Debate Head Coach. "They've had a dominating first semester of competition and have only lost a handful of debates."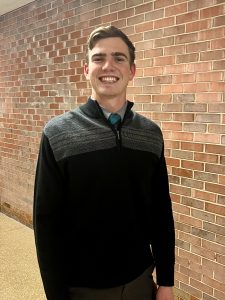 Another team from MSU, David Koster, a political science and economics senior in the Honors College, and Blaine Montford, a political science freshman in the Honors College also reached elimination debates at the tournament.
Koster and Montford bested teams from Emory University, Northwestern University, Baylor University, and the University of Minnesota to reach the double octafinals.
In addition to team competition, individuals at the tournament are assigned individual speaker points for each of their preliminary debates and, out of a field of over 250 competitors, Koster was named the 16th speaker.
"David is frequently working to improve his delivery and speaking skills. Sometimes he's even in the office late at night practicing so it's wonderful to see that work pay off," said Repko.
MSU was also represented at the tournament by Mitchell Scott, economics senior, Zaria Jarman, James Madison College freshman, Aadit Agrahara, political theory and constitutional democracy sophomore, Glen Scully, computer science sophomore, Hina Shehzad, James Madison College Freshman, Arielle Gearring, political theory and constitutional democracy sophomore, and Alex Bitzan, a freshman who hasn't declared a major.
The Franklin R. Shirley classic is the last college tournament of the fall semester for MSU Debate. They will host a high school debate tournament in December and next compete in January.
The MSU Debate Team is part of the Honors College.