By Carly Watson
Michigan State University Debate has announced their competition schedule for the 2022 fall semester with tournament hosts all over the country.
The team will participate at a mix of online and in person tournaments. The full schedule is as follows: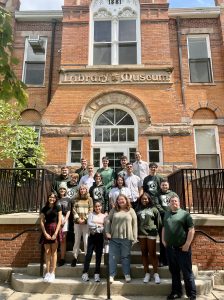 Owen L. Coon Memorial Tournament hosted by Northwestern University (9/17-9/19)
JW Patterson Debates hosted by the University of Kentucky (10/1-10/3)
Ziegelmueller Invitational hosted by Wayne State University (10/22-10/24)
The Jesuit Debates hosted by Gonzaga University (10/29-10/31)
Franklin R. Shirley hosted by Wake Forest University (11/12-11/14)
American Debate Association Fall Championship (11/12-11/14)
In addition to intercollegiate competitions, the Debate Team will also participate in an exhibition debate hosted by the Society of Automotive Engineers in November and host a high school tournament in December.
The season-long topic for the 2022-2023 academic year asks whether the United States should vest legal rights and/or duties in artificial intelligence, nonhuman animal species, or nature.
MSU Debate returns to competition this year after an outstanding 2021-2022 season where they won the Brick City Round Robin, had two teams in elimination rounds at the National Debate Tournament (NDT), and had a historic finish at the American Debate Association National Championship.
"All of the students who competed at the NDT last year are returning this season," said Will Repko, MSU Debate Head Coach. "In addition, we've added several students to the team that are incredibly talented. It should be a fun year to be a fan of MSU Debate!"
MSU Debate has a legacy of success spanning over 25 years and has won the National Debate Tournament three times in that time.
The MSU Debate team is part of the Honors College.